Innehållet nedan modereras inte i förväg och omfattas därmed inte av webbplatsens utgivningsbevis.
PureSound®E - noise reducing foam
Tillbaka till företagsprofilen.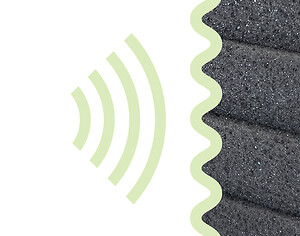 PureSound®E is a lightweight, flexible and MDI-based polyurethane foam with an advanced cell
structure, produced by BPI.
The material's sound absorbing properties in both low- and high-frequency areas make it ideal for sound absorption and insulation in various areas. The foam is flexible and robust, and it can be thermoshaped using complex 3D-designs.
PureSound®E is made with an environmentally friendly low VOC-emission fire-retardant and without formaldehyde. Simultaneously, PureSound®E has fire rating class E, which makes it unique.
Puresound®E product information
Fakta om Bramming Plast-Industri A/S
Adress
Bramming Plast-Industri A/S
Vardevej 9
6740 Bramming
Region
Danmark
Syddanmark
Esbjerg Kommune
Telefon: +45 79571000
VAT nummer: DK78709111
P nummer: 1002559027
Anställda: 129
Kontaktpersoner
Mette Schmidt Hansen
Avdelning: Marketing
Yrke:

Marketing Assistant


Telefon:

+45 79571067