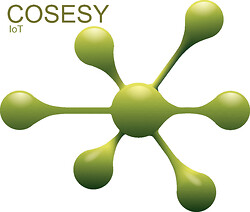 COSESY fokus på IoT løsninger til buildings. We deliver total IoT solution from development, prototype, sourcing, produktion, data management , operations samt brugersupport.
Vi har 10 år solid erfaring og kompetence inden for digitalization and automation of buildings, hjælper B2B kunder med at opbygge og drifte deres eget IoT økosystem.

Vi samarbejder med europæiske producenter, der sælger produkter med COSESY teknologi og tilhørende apps. I dag er vores teknologi integreret i adskillige 50+ produkter, og bruges af 100.000 brugere.
Kig på IoT cases fra vores hjemmeside og få inspirationer om hvordan projekter kan løses med vores IoT-platform.
Til at understøtte volumenproduktion har vi også team med Kinesisk baggrund i Danmark og Shenzhen, Kina, til at understøtte lokal sourcing og mulig produktion i Kina og Thailand.