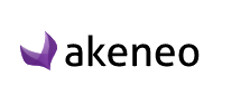 Akeneo är en global ledare inom produktupplevelser vars program hjälper varumärken och återförsäljare att skapa den mest övertygande kundupplevelsen för samtliga säljkanaler, såsom e-handel, mobil, tryck, sociala media och diverse digitala marknadsplatser.
Ikoniska varumärken såsom Intersport, GAME, Carhartt, La Perla, boohoo.com, och Warner Music Group litar på Akeneos programvara för en exceptionell kundupplevelse och sömlös global expansion som kan öka försäljningen, minimera time to market, och maximera anställdas produktivitet.

----
Akeneo is a global leader in Product Experience Management (PXM) solutions that help merchants and brands deliver consistent and enriched customer experiences across all sales channels, including eCommerce, mobile, print, and retail points of sale.
Akeneo's product information management (PIM) and product data intelligence solutions dramatically improve product data quality and accuracy while simplifying and accelerating product catalogue management.